Horizon 3 Maldives Liveaboard (M/Y)
Horizon 3 is a top-quality boat that focuses on Quality dive and safety aspects. We do diving Charters in the Maldives. A twin-engine yacht, with 12 cabins that can accommodate 22 to 24 Divers, with restaurant, bar- fully provided with favorite drinks, spa, and sun deck.
We have 4 experienced dive masters on board including a dive instructor (Local, German speaker). Our average ratio is 1 divemaster for 6 divers. Which is very rare in the Maldives. Which makes our diving one of the best in the Maldives.
Horizon 3 Maldives Liveaboard Features
The Horizon 3 Maldives Liveaboard is among the most respected Diving Liveaboard in the Maldives.
Go north to Baa for mantas – south to Thaa for sharks, central for a taste of everything
Manta cleaning stations, whale sharks, hammerhead, reef, thresher & tiger sharks
Highly trained and dedicated staff to ensure the ultimate diving holiday
On-deck Outdoor Tub and a comfortable leisure decks
The interior design is light, comfortable and clean providing a 'home from home' ethos
Complimentary guided snorkeling tour.
Our experienced ayurvedic therapist from Sri Lanka offers massages.
Internet, rental equipment and dive courses available
Horizon 3 Layout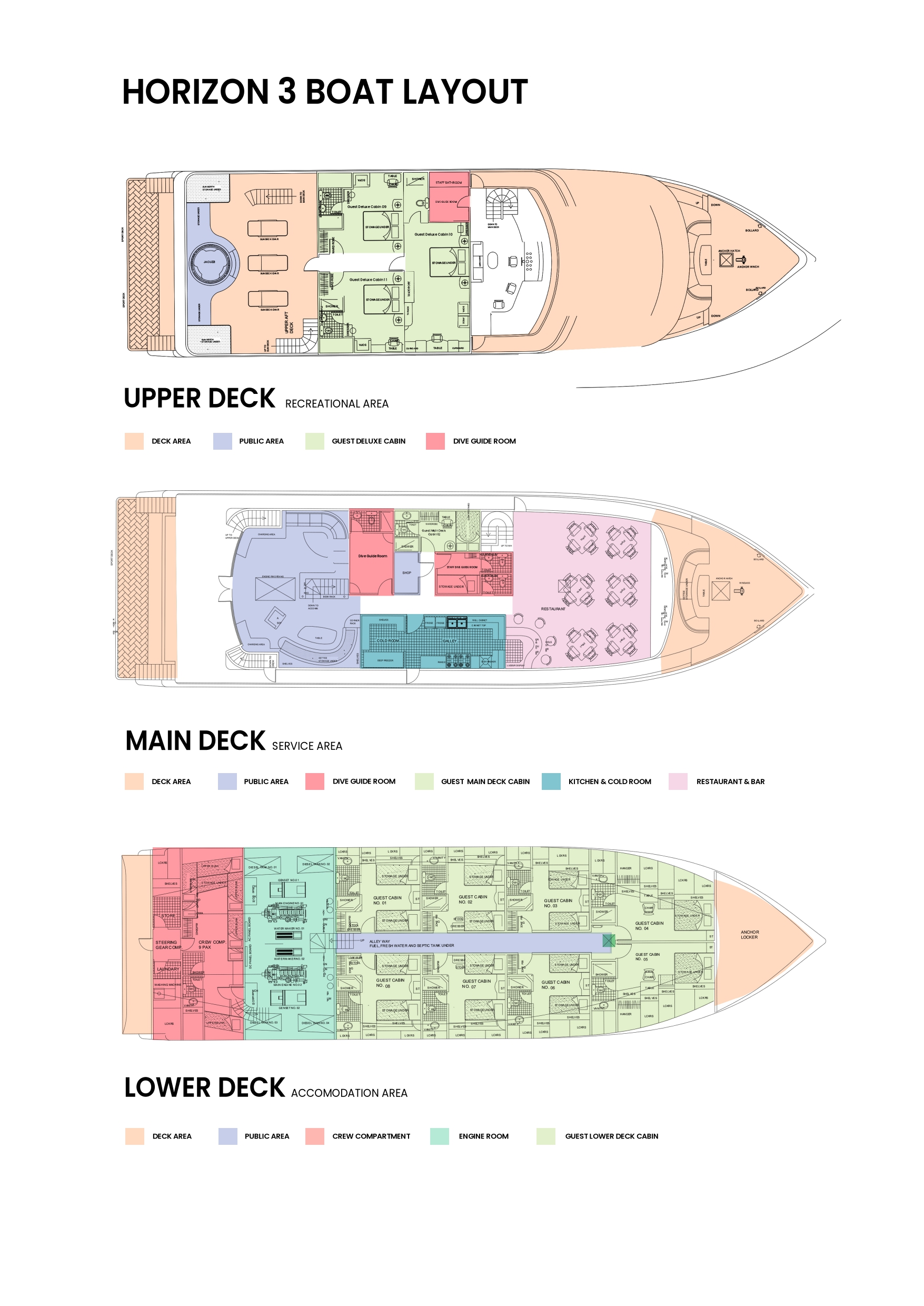 70% of guests are 'repeater visitors' to the boat as a result of our services and professional crew,
The consecutive award-winning crew offers great ambiance and take you to the best spots of the season for diving. Buffets, nationality favorite food, and draught beer along with a comprehensive drinks menu are offered.
The 20-meter tender dhoni with electric 3 compressors and nitrox system takes the dive clutter from the mother vessel. Moreover, There are 5 separate locations on the boat for guests to enjoy the Horizon.
Explore the stunning underwater paradise for diving or surf spots on charters. The yacht accommodates 3 deluxe and 9 standard cabins and the living lodgings.
If you'd like to know more details about Horizon 3 Maldives, feel free to reach out to us.
Get Dive Specials Right In Your Inbox.
Overview
Specification
Equipment
Accommodation
Horizon III can accommodate 24 PAX in total.
Horizon III comes with a Dive Tender with equipment.
9 Standard Cabins, 3 Deluxe Cabins
All the cabins are Air Conditioned with private toilet.
Maker:
Custom Built in the Maldives
Model:
2009
Sleeping places:
12
Fuel:
Diesel
Capacity:
24
Speed:
12 knots
Electric Fridge
Fishing Equipment
Diving Equipment
Life Jackets
Power Generators
Snorkeling Equipment
The yacht accommodates 12 cabins and the living lodgings are completed with restaurant, fully provided with favorite drinks- bar, spa, and sun deck. In addition, you will find a Outside Hot tub to relax in the most amazing setting. All rooms are fully airconditioned with hot and cold shower. Horizon III can accommodate 22 to 24 Divers.