Read Before You Depart
Contacting Blue Horizon, Maldives:
Country Code is +960
Blue Horizon Representative: +960 7941169 and +9607951162
Blue Horizon Office: +960 3321169
In the event of an emergency, family and friends can contact our staff can be contacted on any of the numbers above. We're available on Viber and WhatsApp.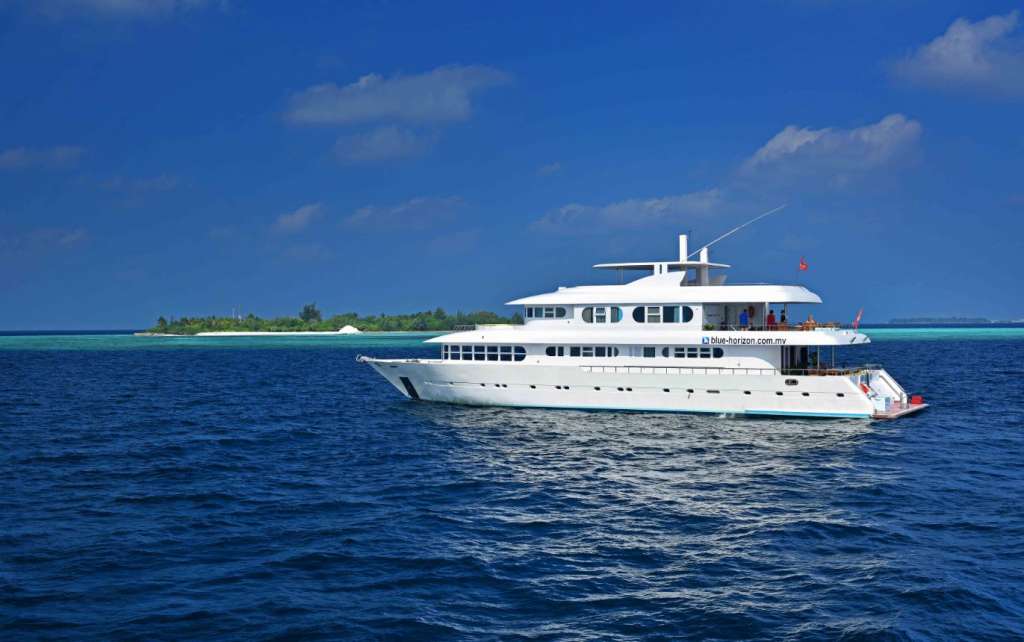 Passports & Visas: All guests must have a valid passport for at least six more months after arrival. A 30-day tourist visas are issued on
arrival at the immigration desk at Maldives International airport for all nationalities and are free of charge. All guests must be in possession
of a valid return/onward flight ticket.
Insurance: It's mandatory that you purchase comprehensive dive and travel insurance cover specific
to your booking. Blue Horizon will not be responsible for any financial loss incurred by issues beyond our control such as, but not limited
to; weather, 'Act of God' or changes made by the local authorities. This is your responsibility to check that these include:
a. Dive Injury Insurance: covering all risks, costs and expenses likely to be incurred as a result of a diving injury, including but
not limited to re-compression chamber treats, air evacuation, and loss or damage to possessions. This insurance should cover
all scuba diving or water sports activities that you are likely to undertake during your trip, and
b. Medical Insurance: covering all risks, costs and expenses likely to arise from a diving or non-diving injury requiring
your evacuation to a place of specialist care, including but not limited to low altitude air evacuation; specialist treatment and
direct; and indirect losses; and
c. Travel Insurance: valid at the time of booking to cover any pre-departure cancellations should you have to
cancel your trip for an insured reason such as illness or serious accident, any changes or cancellation to your travel plans, loss
or damage to your luggage etc.
Arrival and Departure Airports
You must ensure that your insurance fully covers all your personal requirements including pre-existing medical conditions, cancellation charges, medical expenses and repatriation in the event of accident or illness, diving injuries and medical evacuation.
If you choose to travel without adequate insurance cover, Blue Horizon will not be liable for any losses howsoever arising, in respect of which insurance cover would otherwise have been available.
(Velana International) Airport:
We pick up everyone from the airport 11:30AM from Burger king. A voucher will be issued from our side with phone numbers and pick up details. If you have to wait for a transfer on arrival or for a connecting domestic flight, the airport is reasonably comfortable and has a shop for local SIM cards, money changer, and a few nice coffee shops / restaurants Inc. Thai Express, Burger King etc. On arrival: Guests arriving at Male Airport on the check-in day (usually Sunday) will be met by a representative, wearing an Blue Horizon Maldives T-shirt and holding an Horizon III sign.
Domestic Flights
Check in will commence 2 hrs prior to departure and will close 1 hr prior departure. Luggage allowance for domestic
flights is limited to 20kgs per person with hand luggage much smaller than most other airlines, i.e. approx. size of a standard ruck sack. Additional Luggage can be purchased and its $1 per KG. Please note that the names mentioned on your flight e-ticket must match your passport. Otherwise you cannot travel.
On Sunday, you will be picked up via the 20-meter tender dhoni where you will be able to unpack your dive gear and assemble your gear. If you will rent the equipment from us, our crew will assist you in assembling the gear. After a short 20 mins ride, you will be transfered from the Dive Dhoni to the Mother vessel Horizon III
Check-in and Check-out
Check out is at 07:00 and guests will be in the airport by 07:30. For guests continuing their holiday in the Maldives at a resort, hotel or
another liveaboard, your on-going transfers need to be arranged by you from the airport. We cannot arrange direct transfers
from the liveaboard to resorts. Day use rooms are available with hotel/guest houses on Hulhumale, the boat crew OR blue horizon representative can help you arrange this on request.
Our Check-in is 12 Noon. We pick everyone from the airport 11:30AM. You are highly advise to arrive before 12 noon so you can be picked up on time. Guests arriving after 12 Noon will miss the check-dive.
Check-Dive and Refresher Course
Blue Horizon strongly advises divers to follow the agency standards for safety reasons. Many agencies recommend a Scuba Review if it has been longer than six months since your last dive and should be completed prior to your arrival and signed by an instructor in your diving logbook. The Check Dive will be scheduled based on arrival flights of the group & weather and will asses the skill level of the divers, and will need to buddy up and join groups of similar dive skill level group. In the interests of safety, Blue Horizon reserves the right to restrict diving activities if the instructor has any concerns regarding diver safety
Diving In The Maldives
As per the regulation, the maximum depth for diving in the Maldives is 30 metres with an equally qualified buddy. Your maximum diving
depth will be dependent on your level of training and experience. It is your responsibility to check what depths your insurance policy covers before your arrival.
Disclaimer: Unpredictable and strong currents are to be expected anytime, but especially in periods of new and full moons.
We recommend that you are certified to 30 metres and are comfortable with drift dives.
Following the Maldives regulation: Decompression diving, solo diving and technical diving is strictly prohibited.
Diving Experience
Blue Horizon advises that all guests must be Advanced Open Water Diver or equivalent. On some dives the recommended
depth is below 18m therefore advanced or Deep Diver training is advised.  Experienced Divers can dive in a buddy pair. Inexperienced and beginner divers may find some dives challenging and may be asked by the Cruise Director to skip dives that are not suitable for their diving experience.
Dive Guides On Horizon 3
We have a total of four professional dive guides on board. For all diving sites visited our dive guides will give you a detailed and comprehensive dive briefing before you enter the water. When the guide is in the water, they will remain with the group to navigate the site and to look out for any interesting marine life, sharks, corals to show you. The dive guides will not provide any dive training during the dive. The guides may decide upon seeing each diver's ability not to enter the water for every dive and will remain onboard providing surface support only.
Dive Equipment
Blue Horizon has brand new dive equipment. The Dive Equipment is available for rent from Blue Horizon Maldives and we ask that you pre-book your equipment before you arrive onboard. You can do that when you're filling the guest booking form. We need to know normal sizes, height, weight and shoe sizes to ensure the correct sized equipment can be arranged for you. All divers are required to use a dive computer, SMB and reef hooks for every dive and a torch each for night dives. We can provide SMB, reef hooks, dive torches, dive computers. (Chargeable)
Itineraries & Dive Sites:
All itineraries and dive sites are subject to unpredictable changes including weather conditions and changes in Maldivian Government approval. Whilst Blue Horizon Maldives make every effort, we cannot guarantee diving at specific sites. In adverse weather conditions the dive guides and captain on board will have the final say about which dive sites to visit to ensure that the guests, crew and boats safety is not compromised. If in the unfortunate event that some dives are missed, or dive sites are not reached due to weather conditions or other unforeseeable changes, Blue Horizon Maldives will not offer a refund or compensation.
Boat Captain
The captain on boat will decide, along with the dive guides, where you go and when. Often dive sites can look like a millpond on the surface and to the uninitiated seems perfectly acceptable to dive. However, if the captain and guides say no, please accept their decision. Safety is the utmost concern of our captain and dive guides. The sea is a dangerous place when not respected, so please accept the alternative plan as best you can.
Non-divers
Both snorkelers and non-divers are required to complete a liability form at the time of check in. We normally don't combine snorklers and divers. Please write to us via email to check on the availability and possibility. Whilst sometimes we can accmmodate both divers and snorkelers, some itineraries or dive locations may not be permitted for safety reasons.
All diving guests are required to produce a valid diving certification OR e-certificate and sign a waiver form prior to the commencing diving activities.
Dive Tanks and Adapters
We have DIN tanks and INT adapters available on-board free of charge. We have 12 L and 15 L tanks available on board. 15L tanks (Chargeable)
Children
Children aged 15 years or younger must always be supervised by a parent at all times.
Nitrox
Blue Horizon Maldives equipped to offer Nitrox fills (normally 32%) on board. Please inform us in prior in the guest booking form so we can inform this informaiton to our crew. NItrox is payable on board. You can also send us this information via email by mentioning your trip date, full name.
Bathrooms and Hot Shower
All the bathrooms have a shower, sink and toilet. Please avoid putting down the tissue papers in toilet. This can risk blocking the system. Waste bins are provided in all bathrooms and are emptied regularly. All the bathrooms have a Hot water:  We recommend guests to shower at different times to ensure everyone enjoys a hot shower. If you find any issue using the shower panel, please ask one of our friendly staff on board to assist you.
Food, Dietary requirements and Alcohol
We serve a buffet style meal on board. Our food menu includes a variety of local and international dishes to suit everyone. Local food is traditionally a bit spicey, fish is available on-board. Snacks, free flowing Water, tea and coffee are complimentary. If you have a special dietary requets or any allergy. Please inform us prior to your arrival via guest booking form. So we can pass this information to our chef.
Soft drinks, fresh juices and alcohol (cocktails, liquors, wine and beer) are chargeable.
Importing alcoholic strictly is prohibited by law. Bottles containing alcoholic beverages will be confiscated at Customs upon arrival and returned to you at departure. Alcohol is available to purchase on board Horizon III. Guests will not be permitted to dive after consuming alcohol or under the influence of a hangover as this seriously impairs your judgment and increases your risk of decompression sickness.
Tipping and Currency Accepted
We accept in cash Euros and US dollars. New and undamaged notes only, no coins. We accept Visa and Mastercard on board, charged in USD and a 3.5% surcharge will be added. Please check with your bank regarding any international charges and exchange rates.
Tipping: You will find a box in the dining area where you can tip. Please feel free to leave what you think is reasonable and it will be shared equally among the team on board. Minimum TIP FOR THE CREW IS $10.00 per guests per day.
Wi-Fi
Horizon 3 is equipped with Wi-Fi. Data packages via a code are available onboard to purchase and may be used on one device at a time. Signal strength can vary which may result in slow connections. This service is dependent on the local mobile provider, there are often days where no signal is available on most itineraries. We strongly advise you to buy a local sim card from the airport so you can also have a data package with you.
Courses
We offer different courses on-board from beginner to a wide range of speciality and advanced training courses. Courses are
subject to availability and itinerary. The courses are subject to a 12% TGST and 10% service charge. This is applied if the course is done locally. Please write to us in advance if you wish to do the course on board so we can check the availability and inform you accordingly.
Charging Stations
We advise that you do not charge devices inside the room for the safety reasons as there's designated charging station in the saloon area under 24/7 CCTV Monitoring. We have a strict NO SMOKING policy in the cabins. The guest, crew and the boat safety is utmost priority. if you wish to smoke, you can go to designated smoking areas. We also have rinse tanks available onboard.
Housekeeping
We provide Bath and beach towel. Plus an additional towel to be used on the sun deck. Our housekeeping crew will clean your cabin daily. Towels and bed linen are changed once a week. For any additional cleaning required or change of towels please reach out to our friendly crew OR one of the guides on board so they can assist you.
Taxes And Port Fees
Green tax is mandatory $6 per person per night. You can either choose to pay in advance with the booking OR you can pay it seprately on board. All extras are subject to 10% Service charge and 12% TGST. Please note that some islands charge a fees $5 per person for BBQ and these prices are to be paid directly to the island. For our deep south cruises, there may be some fees to visit the Addu Nature Park. There's also a $30 tiger shark fees per dive to be paid (along with safety equipment).
What Languages Do We Speak On Board?
Maldives official lanugage is Dhivehi. On board we have guides, instructors, crew that speaks German, Russian, English.
Respect Everyone and their Privacy
We believe that racism should be eradicated. Thus, we strongly advise everyone to be respectful towards fellow divers, crew, staff and follow the local rules and regulations. We do not tolerate Racism behavior. We believe in equality, justice and putting people first no matter what they look like, where they come from, what their abilities are or who they love. That's how we can create a fun, loving, friendly and a comfortable envionement for all of our guests, crew and staff.
Any Additional concerns?
You can also refere to our FAQ page here
If you have any question or need any help, you can always reach out to our friendly team at Travel@blue-horizon.com.mv