Horizon III - Diving Liveaboard Maldives - Book Your Next Dive trip
















Horizon III is the Ocean Oasis of the Maldivevs which focuses on Quality dive and the safety aspects. A twin engine yacht, with 12 Cabins that can accommodate 22 to 24 Divers, with restaurant, bar- fully provided with favorite drinks, spa, sun deck and Outdoor Hot Tub. We have 4 experienced dive masters on board including a dive instructor (Local, German speaker). Our average ratio is 1 dive master for 6 divers. 
Cabins
Upper deck: 3 suites with a king-size double, 2 cabins with twin beds
Main deck:   1 suite with a bunk syle bed and 1 double bed.
Lower deck: 8 Standard Cabins
Main deck: Air-conditioned lounge; comfy sofas, TV, book, music, beanbags, internationally stocked bar, dining area.
Upper deck: Outdoor seating with deckchairs, Outdoor Hot Tub. sunbeds.
Sun deck: Deckchairs, sunbeds, bean bags.
Power Socket Adapters station (security cameras)
WiFi: Data packages via a code are available to purchase on board.
Diving Dhoni: 24m tender with 3 crew, fully equipped with compressors, oxygen, comprehensive First Aid and diving towels.
Dive equipment rental: Guest can rent Full Dive Equipment. All divers are required to use a dive computer, SMB and reef hooks for every dive and a torch each for night dives. (Guests need to pre-book the dive equipment).
A service of 4 dive guides including a German Dive Instructor.
Dive tanks: Equipped with 12 litre Aluminium tanks as standard and 15 litre tanks on request. NITROX Available up to 32%
PADI courses available: Advanced Open Water, Adventure Dives and Specialties. (Please prebook these).
Medical: Oxygen, comprehensive First Aid available. Crew and staff is trained to adminster oxygen.
Camera facilities under 24/7 CCTV: Charging stations, rinse tanks and camera table.
113 reviews on
A Great week on Horizon I came on this boat in 2022 I had such a good time. I decided to come back again with three other people that also did the trip in 2022. We did a similar itinerary calling at all the major stops, tiger, zoo, Manta point etc. We managed to see everything we wanted to except a whale shark.The crew on both the boats worked very hard. The chef was the same chef a year ago, and the white, as were the same as a year ago, so this shows that the boat runs in a fairly stable manner.
Amazing experience every time We have been aboard Blue Horizon 3 already 3 times, last time in November 2022. The boat is spacious and comfortable even with with 20+ divers aboard. The crew is very friendly and helpful, always eager to solve any problem. Also the chef and his assistants do an amazing job, so apart from wonderful diving adventure you also get a great culinary experience! The dive guides led by Nicole are very responsible and attentive, before every dive there is a detailed briefing, they always check if everything is ok while divers are gearing up before a dive and make sure that each dive is well planned and as safe as can be while the Dhoni crew help with the equipment. We were lucky enough to visit a lot of different dive spots and spot sharks (including whale, tiger and nurse), as well as mantas, rays, turtles, but also incredible coral reefs with beautiful micro creatures, wrecks, so each dive was interesting and memorable. You can really feel that everybody on the boat is trying to make your stay as enjoyable as possible. We made a direct booking and Ameer was very helpful in providing us with all necessary information and arrangements.
Жирный трип на яхте Круизная яхта HORIZON III построена в нулевых, но о качестве сервиса так не скажешь. Команда местных ребят отлично справляется со своими обязанностями. Каждый прием пищи уникален по своему, изыски в репертуаре шефа просто безграничны. Настоятельно рекомендую познакомится с персонажем по кличке «Шаби», искупает с акулами и скатами, покажет лучшие острова и составит интересную программу на этот день. Из минусов файфай который работает только в лобби и на втором этаже.
Very Pleased I booked a trip with the guys at Horizon III. I had the best time on the boat.The guides and the crew are very friendly. They showed us around whenever possible, and made an effort for everything to be easy for us.Now about the boat, the dives and overall service. I cannot stress enough how excellent the service is on board. The guides were very experienced and helpful, with a safety-first attitude. The cabins are cleaned every day, the food exceeded our expectations by a lot. Thanks guys!I highly recommend them 🙂
BEST LIVEABOARD EVER Words are not enough to describe our experience with Horizon III Maldives Liveaboard. Maldives is simply amazing, visibility is great. We were so lucky we saw turtles, sharks, rays and dozens of other smaller and bigger animals. The boat is very comfortable and nice and can easily accommodate 20+ pax without being cramped. The briefing was good, the food, the diving, the crew, especially Ranga has been very good. The crew is always there for whatever you might need them. The guides were very helpful. The food was in plenty, different options available. They catered to our dietary requirements really well. All in all It was a very good trip and I'd rate it a 5 STAR. There are ways to improve a few things but can't really complain much about it. Important is the diving and how well the dives are managed.
A trip of a life time So I just came back from what you would call an amazing dive trip. I booked Horizon III via an agent and they took care of everything. Unfortunately, I saw some people writing about their experience and I was a bit skeptical at first, but I was blown away by the trip. I'll be as detailed as possible so people get a bigger picture and don't just fall for bad reviews. The boat itself is very spacious. Spacious cabins, toilet, the saloon, dining area. Oh and the dive Dhoni as well. The dive guides were really helpful and answered all of our questions. The dives were great. We pretty much saw everything that one can dream of. The weather was also very good. This is also a low season so was not sure if the Maldives could offer a great diving but I was wrong. The diving was simply phenomenal. Reading some of the other fellow reviews where Dive Dhoni broke down. It was unlucky for them but this could have happened in any destination, any boat. I see a lot of anger while most of its not true. For example, I didn't see any cockroaches on the boat or cabins. in fact, other guests present on board didn't see it either. The boat and cabins were very clean and nicely presented. I can't really find anything to complain. Everything was just perfect and how a liveaboard trips should be. I will surely be coming back and highly advise you to do the same if you're reading this. I'm very satisfied.
I was scared by Douglas at the airport but it was actually great I was on October 2-9On the first day, at the airport, I met Douglas from the previous trip who really scared us about the following trip warning about cockroaches everywhere very bad guides and the diving boat broke down a couple of days before.We were expecting the worst but actually everything was really great! They rented a new diving boat for the trip and new guides. We saw literally everything we could see, tiger the first day in fish tank, mantas whale sharks and the other divers were great too I also did a crossover with an instructor who was on the boat as a guest. ( I'm also an instructor working on a Maldivian resort and boarded with my father for vacation)The guides we were told to be freelancer and that every week changes. We had the luck to have Sami on board who knew really well the dive sites, great fun guy who was absent the previous week. I'm very sorry for the guys who got the boat broken during their week and couldn't dive, but this thing can happen to any boat. They were extremely unlucky We (and talking also with the rest of the group) never saw cockroaches Food was great and really can't find any complaint beside just once we missed the dive site but I think it was a mistake of the diving captain who dropped us in the wrong place but we came up again and jump again getting it right Great Ranga the bartender and also Nuham and the third guide who I can't remember the name
(Length – Overall, Beam and Draft) Length 36 meters/Width 09.50 meters
Engine 2 engines x 360 HP DOOSAN Daewoo (Dual Screw)
Certified: Inspected and Certified by Ministry of Transport Male', Maldives
Navigation: Compass, Maps, GPS • Speed: 10 to 14 Knots
Generators: AC 220V, 50Hz (British Sockets), 77 Kw DOOSAN x 85Kz DOOSAN
Water Maker: 2 x 6 ton per day Aqua Reef
Diesel 8 Ton
Tender – 1: 18 meter Dhoni with 3 crew for transfers, diving or surfing or excursions etc.
Tender – 2: 06 meter Boston Whaler with outboard engine for surfing and excursions.
Brand Fire Extinguishers
Oxygen Mask Emergency Oxygen kit on board
First Aid Kit available on board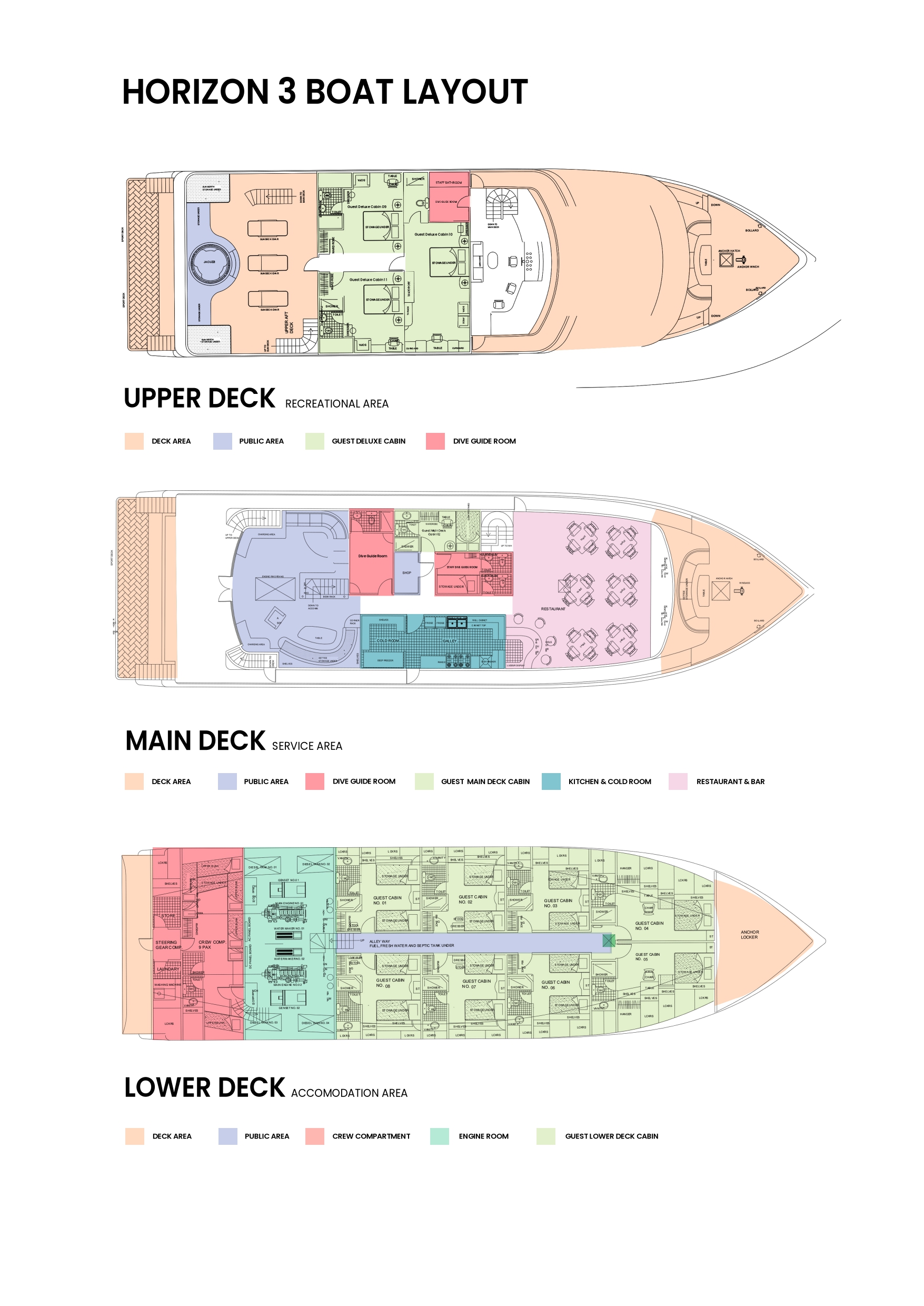 Get Dive Specials Right In Your Inbox...